Gilding the Revolution:Grayson Perry and the Subversive Art of Ornamentation
In March of 2015, I gave a presentation at NCECA (The National Convention for Education in the Ceramic Arts) on the subversive art of ornamentation. a paper to accompany the talk was published in the conference journal, but it was an abridged version of the original paper.  Leading up to my next talk on ornamentation, Sub Rosa: Ornamented Secrets, I am releasing the longer paper in a three part series as a sort of prolegomenon for Sub Rosa.
The three parts are: "The Seduction of Ornamentation," "Default Man's Myth of Good Taste," and "Making Art Dangerous Again."
If you prefer a traditional pdf, the original paper is available on academia.edu.
---
PART ONE: THE SEDUCTION OF ORNAMENTATION
When Grayson Perry won the Turner Prize, a highly publicized award in British contemporary art, he said, "It's about time a transvestite potter won the Turner Prize." His work, mostly pottery decorated with images about the world both inside of him and around him, is worthy of the Turner Prize. Still, critics in both the fine art and craft world criticized his receiving the award. In his acceptance speech, he said, "I think the art world had more trouble coming to terms with me being a potter than my choice of frocks." ("Transvestite Potter Wins Turner" BBC News, December 2, 2003) His transvestitism presents as more than just a man dressing in dresses. Embroidered images that reflect the events he attends cover the dresses. The dresses on him, like the ornamentation on his pots, are surface imagery used to pull the viewer into the content of the work.
Behind his satin dresses and his thick working class accent, Grayson Perry is an artist deeply enmeshed in the contemporary art world. His work goes beyond ornamented pottery and engages with critical discourse. The simple pot forms that he uses create an introduction from which he can speak about a wide range of topics. In his appearances on panels, BBC shows, and interviews, he shares the depth of critical knowledge and social examination that spawn his pots. His thoughts on art and society can be controversial and unpalatable, and it is the ornamentation his work displays on the surface of these safe familiar pots that allows him to introduce his ideas to a wide audience that might be alienated by the content of his work – such as transvestitism, sexual deviance, and gender politics – in other contexts. The Saatchi Gallery says, "These highly decorative objects, often covered with layers of lustre, gold leaf and sugary kitsch transfers are, by the artist's own admission, 'perversion to match the curtains'." The ornamentation he uses on traditional forms acts as a subversive force, which expands and popularizes contemporary art conversations while making unapproachable topics approachable and defying dominant ideas of good taste.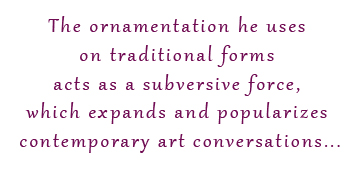 In October 2014, Grayson Perry wrote an article for The New Statesman in which he explained his concept of Default Man and how that archetype unfairly controls taste and society. Perry defines this Default Man, saying
In the UK, its members probably make up about 10 percent of the population… globally, probably less than 1 per cent… They dominate the upper echelons of our society, imposing, unconsciously or otherwise, their values and preferences on the rest of the population.
Perry uses anthropological language to analyze the way that Default Man dictates societal conventions, bringing to light the hegemonic assumptions of everyday culture. He writes,
Default Man feels he is the reference point from which all other values and cultures are judged. Default Man is the zero longitude of identities.
By being the baseline for normalcy, Default Man dictates what is in good taste. He declares that decadent ornamentation is passé and that it indicates the taste of the lower class.
Perry uses ornamentation on his works to play with this idea in Good and Bad Taste (2006). He is playing a game in order to pull two different types of viewer into looking at something they consider to be in poor taste by intertwining it with the something that they are conditioned by their class and culture into finding in good taste. It is easy to imagine someone who is hostile to the art world being relieved to finally see something they understand in the gallery, only to then be confronted by pornography. On the other side, an art critic can approach the bottle form and be amused by the use of pornographic images juxtaposed on a traditional form while having no way to interact with the images of the figurine or from the catalogue. Ornamentation works as a push-pull, seducing in two different types of viewer and pushing them back away. The pot shows taste to be an arbitrary concept, which is the first step to being able to see the way that Default Man imposes ideas of "good taste" in order to establish a visual culture that reflects the beliefs that keep him in power.
Ornamentation works here as a seductive force. It brings both the experienced art viewer and the passer by into a conversation about taste and art that they did not intend to engage with. While ornamentation is often thought of as tacky and out-dated, Perry uses it to open contemporary political conversations about taste. Next week, we will continue to look at the role that Default Man has played in defining taste, and we will walk down the path that ornament-free modernism has taken from revolution to dogmatic oppression. Then, in the third final segment, we will see how ornamentation combines alchemically with craft in a way that can re-energize fading critical conversations and make art the hegemony shaking force that it deserves to be.